Good News Unlimited 2008 Issue
Sep 13, 2014 2298
Issue No 1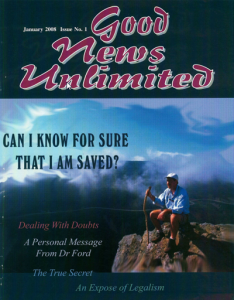 Contents:
A personal message from Dr Ford
Status and Standing by Bob Gass
An Expose of Legalism by Ritchie Way
The True Secret by Santo Calarco
Who Packed Your Parachute
He Never Passes Anyone By by Lyall Sutcliffe
Dealing with Doubts by Hannah Whitall Smith
Kill the Spider by Herb Vander Lugt
Persecution of Christians Increasing Around World by Dan Wooding
Issue No 2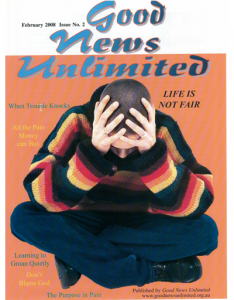 Contents:
Life Is Not Fair by Ritchie Way
Don't Blame God by Ricardo Camino
All The Pain Money Can Buy by Desmond Ford
Learning To Groan Quietly by  Ron Allen
The Purpose in Pain by Santo Calarco
Making The Old Testament Come Alive
Discussion Point
Finding Yourself by William James Nichols
When Trouble Knocks by Dr. Harold J. Sala
The Kid Who Sat In the Corner by Allan Stark
Issue No 4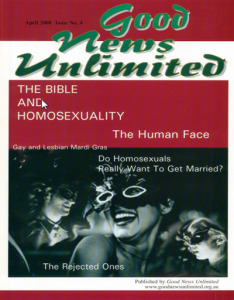 Contents:
Homosexuality And The Bible by Rev. Dr. Walter Wink
The Gospel In Seven Questions by Boris Dobra
The Human Face by Sean Brith
Issue No 8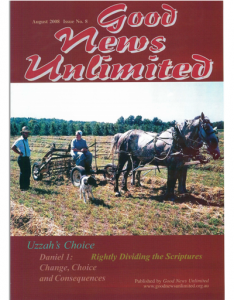 Contents:
Rightly Dividing The Scriptures by Ritchie Way
Revenge by Gordon Bailey
Uzzah's Choice I by Ritchie Way
DANIEL 1 CHANGE, CHOICES AND CONSEQUENCES Part three in a series on Daniel & Revelation by Angus McPhee
Uzzah's Choice 2 by Ritchie Way
The China Study by T. Colin Campbell, PhD, and Thomas M. Campbell II
Issue No 7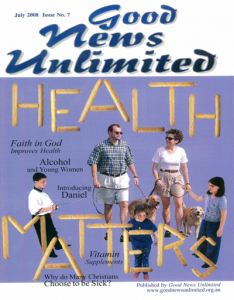 Contents:
Health Matters by Ritchie Way
Why Do Many Christians Choose To Be Sick by Desmond Ford
Why Be a Christian? by Allan Smith
Introducing Daniel: Part Two in a Series on Daniel & Revelation by Angus McPhee
The Hook Book on Ford: A Thumbnail Sketch by Arthur Patrick
 Issue No 6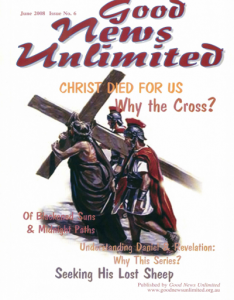 Contents:
Why The Cross by Desmond Ford
Seeking His Lost Sheep by Ritchie Way
GNU Printer For Twenty-Six Years by Ron Allen
Understanding Daniel & Revelation Why This Series? by Anghus McPhee
The Cab Ride
Blackened Suns And Midnight Paths by Tammy Brinsmead
Discussion Point
Life Without Limbs by Dan Wooding
Jesus Only by Dr Desmond Ford
Issue No 3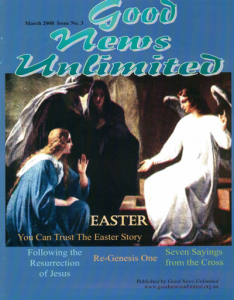 Contents:
The Seven Sayings From The Cross Part One by Desmond Ford
Easter
You Can Trust The Easter Story
Following The Resurrection Of Jesus
Re-Genesis One
 Issue No 5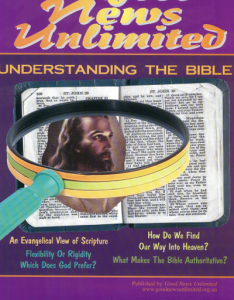 Contents:
Flexibility Or Rigidity: Which Does God Prefer? Calvin W. Edwards
An Evangelical View Of Scripture
Which Does God Prefer?
How Do We Find Our Way Into Heaven?
What Makes The Bible Authoritative?
 Issue No 11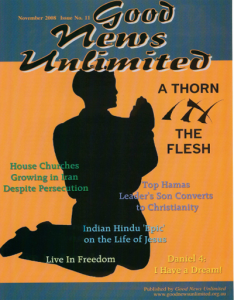 Contents:
Editorial
A thorn The Flesh 1 by Ritchie Way
House Churches Growing In Iran Despite Persecution by Michael Ireland
A thorn The Flesh II by Ritchie Way
Issue no 10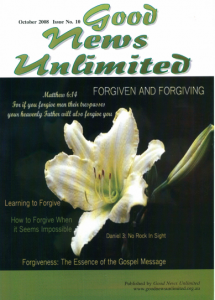 Contents:
Editorial
Forgiveness: The Essence Of The Gospel Message by Ritchie Way
Learning to Forgive by Brad McIntyre
Forgiveness: The Essence Of The Messenger by Ritchie Way
Daniel 3: No Rock In Sight! by Anghus McPhee
How To Forgive When It Seems Impossible by Smuts van Rooyen
Quiz
Discussion Point
 Issue No 9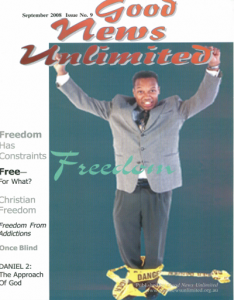 Contents:
Editorial
Freedom Has Constraints by Ritchie Way
Freedom From Addictions by Santo Calarco
Free… For What? by Ron Allen
Daniel 2: The Approach Of God Part four in a series on Daniel & Revelation by Angus McPhee
Christian Freedom by Ron Allen
Once Blind by Kay Marshall Strom
Discussion Point