How Then Shall We Live?
Sep 18, 2014 1408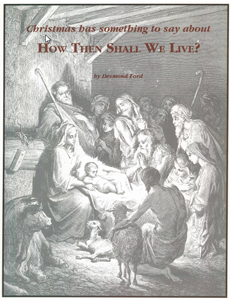 Christmass has something to say about
How Then Shall We Live?
by Desmond Ford
Paul Johnson's recent book, The Intellectuals, has a significant thesis. Persons immoral in heart and life have no right to advise humanity on how to conduct its affairs.
Johnson discusses, chapter by chapter, the careers of Bertolt Brecht, Hemingway, Ibsen, Rousseau, Bertrand, Russel, Sartre, Shelly, Tolstoy, Edmund Wilson and others.