What Happened to the Rich Young Ruler?
Jul 25, 2016 14156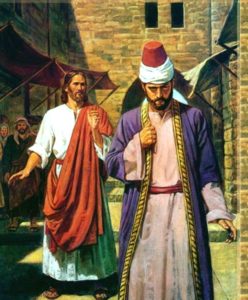 At this, the man's face fell. He went away sad, because he had great wealth – Mark 10:22.
That's the last we hear in the Bible about the man who is sometimes popularly called "the rich young ruler." This man was eminent among his people because of his wealth. It had all started in such a promising way.
This young man was so excited that he literally ran up to Jesus and fell on his knees before him, asking Jesus what he had to do to inherit eternal life. But he refused to give up his wealth for the sake of following Jesus, and the verse above tells you the end of the story in the Bible.
But of course, it was not the end of the story for this young man. Have you ever wondered what happened to the rich young ruler?
The apostles made many sacrifices for Jesus, particularly after his death and resurrection. They, who took the eternal gospel to all the world at the cost of their own lives, shall inherit eternal life. They, who were looked upon as being the last shall be the first in the coming kingdom.
The Rich Young Ruler Kept Money for Himself
On the other hand, the rich young ruler kept his money for himself but lost every cent of it when the Romans destroyed Jerusalem (between AD. 68-70). While he was very rich, he couldn't buy even a mouldy crust of bread to alleviate his starvation during the prolonged siege. Every Jew who wasn't slaughtered then was sold as a slave.
He who had been the first became the last.
What is standing in your way of following Jesus more closely today? Are you prepared to give it up? Ask the Lord Jesus to show you what it is, and surrender it completely to him.
– Eliezer Gonzalez and Ritchie Way
Pay It Forward - Support Spreading the Good News - FAST!
Do you love this content?
We spread the Gospel every hour and minute of the day through this website. We are humbled to say that hundreds of readers and believers like yourself have decided that our work is important enough for them to support us financially.
We do not charge our visitors to read any of the content on this website, but we ask those of you who have been blessed and can stand with us to Pay It Forward to others.
When you Pay It Forward, you help spread the core message of Jesus to help others understand His essential teachings. You give hope and help them grasp the Gospel of faith, grace and freedom to change any person from the inside out.
Every gift, no matter what size, makes it possible for others to receive GOOD NEWS and experience it just like you have.
Support Good News Unlimited with as little as $1. Thank You!
---
---
---
---
---
---
---